Efficient and reliable grain transport
Elevators made of galvanized steel convey the grain fast and reliably without damaging it.
The elevator structure is self-supporting. There are open belt pulleys in the head and bottom. Direct-drive gear motor is reliable in all conditions and almost maintenance-free. The design of the bottom allows maximum filling for the buckets – even with wet grain.
The elevator is easy to clean through large hatches. As an option, pre-cleaner A150 attached to the top part keeps the working area dust-free while conveying the grain.
Adjustable crop guide prevents grain from accessing back to elevator pipe. Replacement air comes through a gap on the intake pit inlet's upper edge. Structure enhances significantly the grain's flow to the elevator.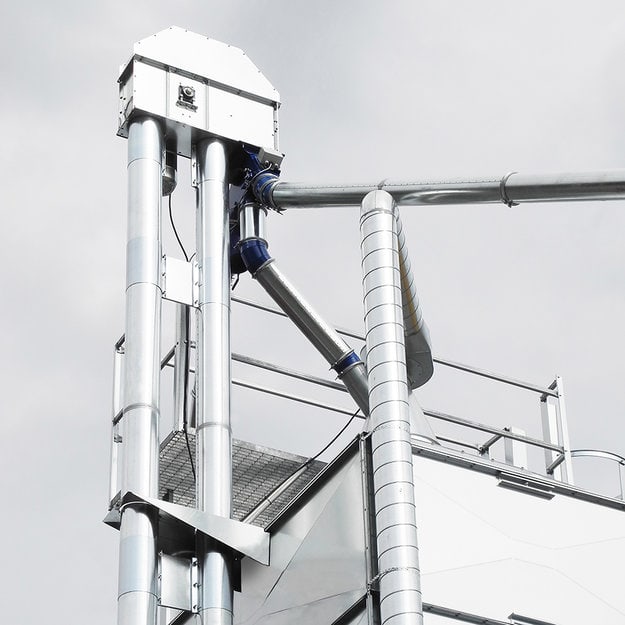 | Elevator | A68 | A92 | A118 |
| --- | --- | --- | --- |
| Capacity [t / h] | 68 | 92 | 118 |
| Motor [kW] | 4 | 5.5 / 7.5 | 7.5 |
| Belt width [mm] | 140 | 170 | 170 |
| Cup amount [kpl / m] | 7 | 6 | 6 |
| Cup size [mm] | 145 | 180 | 205 |
| Elevator pipe [Ø mm] | 210 | 280 | 280 |
| 3-way divider [Ø mm] | 160 | 200 | 200 |
STANDARD EQUIMENT
Speed control
3-way divider
Intake pit inlet
Inlet 4 x Ø200
OPTIONS
Motored 3-way divider
Motored shutter
Inlet 2 x Ø200
Service platform
Supports